O'Neill Men's PsychoFreak Fuze Zip 4/3mm Wetsuit TB3: Black
TB3 Neoprene lighter and warmer than ever before. The PsychoFreak is the pinnacle of wetsuit design that only comes from over 50 years of innovation from O'Neill. The Fuze model is chest zip.
TB3 Neoprene w/ TB-AIR Firewall
F.U.Z.E
Super Seam Weld
Double Super Seal Neck
Super Seal Cuffs
Krypto Knee Padz
External Key Pocket with Loop
Plasma Wrist and Ankle Seals
TechnoButter Firewall
Code Red Urethane Coated Zipper
O'neill Men's Wetsuit Size Chart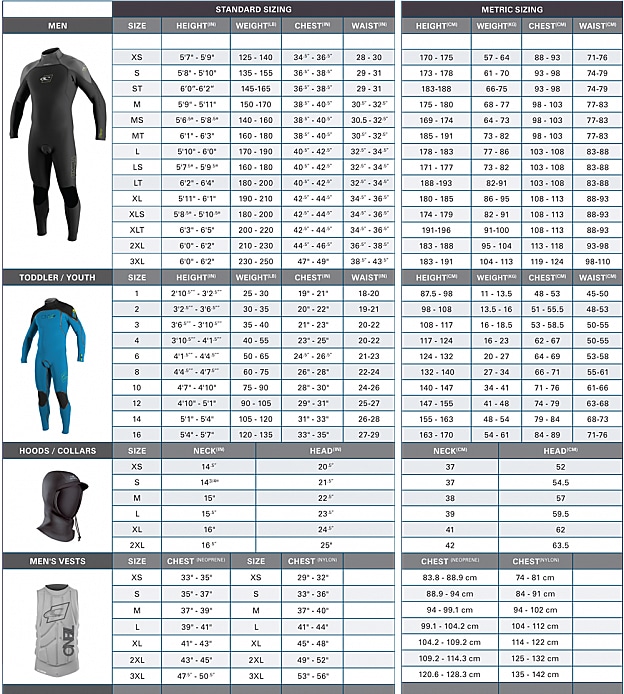 About O'Neill
Sometime around 1952, Jack opened the first Surf Shop in a garage across the Great Highway. He shaped a few balsa surfboards and sold accessories like paraffin wax and a few vests he started gluing together from neoprene. When the vests started selling, Jack decided to go into the wetsuit business. His friends laughed. They asked him what he planned to do for business after the handful of surfers in the area had bought one. Jack said he'd cross that bridge when he got to it.
The Surf Shop became a local gathering place, and the number of surfers began to grow. O'Neill flew in talented surfer/shapers like Phil Edwards to make boards, and wetsuit sales climbed. Jack developed designs for a shorty and a long john, and eventually a long-sleeved beaver-tail jacket. Soon surfers were riding more waves, and riding them better, in large measure because they could now enjoy longer sessions in cold water, thanks to Jack's neoprene suits.