O'Neill Men's Mutant 5/4mm With Hood Wetsuit
Accept no limitations. O'Neill's unique Modular Closure system with new dual cinch on the neck and hood closures seals out water. This makes the Mutant the most versatile wetsuit in our line. The Mutant is constructed of UltraFlex DS and TechnoButter Firewall in the front and back, making it warmer and more flexible than ever before. Two suits in one, now go get some. 5/4mm thickness for the coldess months.
Product Information
ULTRAFLEX DS : High-performance super-stretch neoprene with a durable outer skin that resists Velcro pulls and snags. Stretch factor: 150%
TECHNOBUTTER : TechnoButter is the most advanced neoprene ever developed. This new neoprene technology boasts a 20% lighter formula and 30% less water absorption and quick dry properties that offer rapid drying time. Stretch factor: 160%
SINGLE FLUID SEAM WELD : A revolutionary seam construction that utilizes a non-chafing high grade; silicone-based urethane applied in liquid form to outside of a glued and blindstitched seam completely blocking out water without restricting flexibility.
MODULAR CLOSURE SYSTEM/MUTANT SYSTEM : This innovative pullover mini zip system allows the user to mutate the wetsuit from a non-hooded to a hooded suit in seconds.
Features
Single Seal Neck
Modular Closure System new Dual Cinch on the Neck and Hood Closures seals out water
Single Fluid Seam Weld (Watertight Technology)
TechnoButter Firewall
UltraFlex DS Neoprene
Plasma Wrist and Ankle Seals
Krypto Knee Padz
External Key Pocket with Loop
Contortionist Seamless Shoulder
LSD: Lumbar Seamless Design
1 MODULAR CLOSURE, Interchangeable crew neck and hood
2 PLASMA SEALS. Fluid Seam bands on shoulder lining and inside of closure prevent over expansion and seal out water
3 FLOATING ZIPPER SYSTEM, Ergonomically positioned zipper panels maximize flexibility by allowing the zippers to float as an unrestricted extermal layer.
4 DRAIN HOLES, Front and rear drain holes guide out any water that enters.
O'neill O'neill Men's Mutant 5/4mm With Hood Wetsuit Size Chart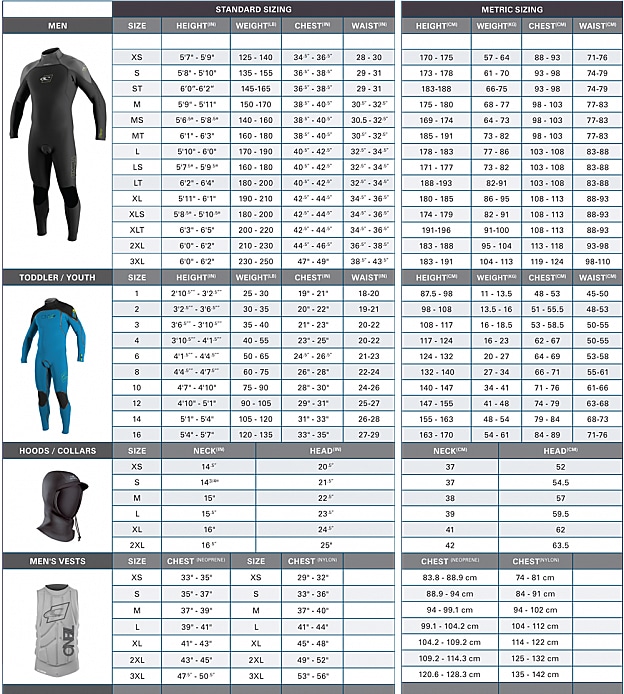 Who is O'neill
O'Neill is an American surfboard, surfwear and equipment brand started in 1952 in San Francisco, California, which moved down the coast to Santa Cruz by the end of the decade. The company is credited with inventing the wetsuit.