Coming to Surf Kaikoura, here's the info you need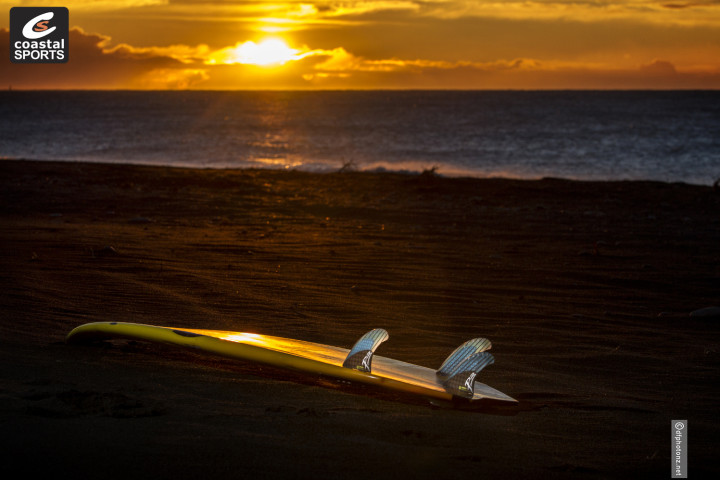 Mangamaunu
If you're going to surf Kaikoura most people end up checking the surf break Mangamaunu, along the coast on State Highway 1. This right point break is a fun, quality wave on its day, sitting right next to the Kaikoura mountain Ranges. Just sitting in the lineup looking back at the snow capped mountains is an experience in itself, the mountains in the Kaikouras are the largest outside the Mount Cook region. The wave peels nicely down the point, but is not too powerful. Long, fun rides are the norm. NE-E swells will result in good conditions, while S-SE swells can create more rips. It can get some crowds but nothing worrying as other breaks peel close-by, weekend surfers from Christchurch and further north make Kaikoura a weekend trip if the swell is forecast. Mangamanaunu breaks through the different tides but can be fat on high or miss the rock shelf on low. The beach is a mix of rock and shingle so it stays relatively consistent with little sand moving around. Great place for good intermediate to expert surfers.
Update: Earthquakes 14/11/2017. Since the earthquakes, Mangamaunu has changed a bit. The coast line of Kaikoura has risen up to 6 meters in places. The good news is Mangas is still breaking, the feeling so far is it's a little faster and at low tide, you have to negotiate more rocks getting in and out.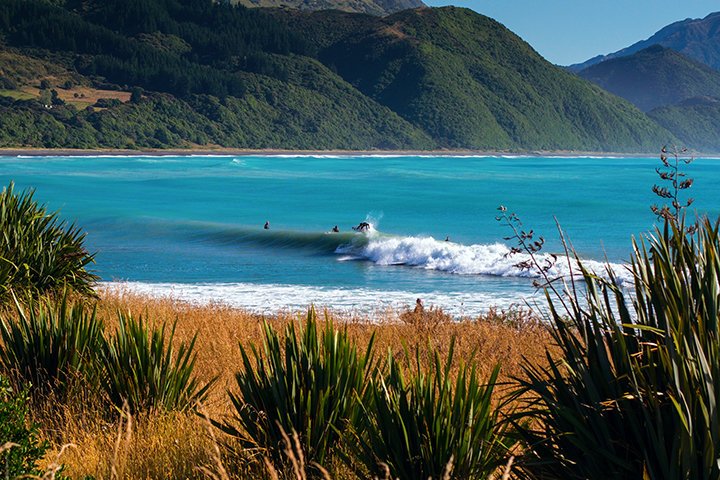 Kahutara
Kahutara is a few kilometers south of the Kaikoura township. Its located straight out in front of the Kahutara river and bridge. An amazing surf wave on it's day a real highlight if your surfing Kaikoura. Usually a lot heavier than Mangamaunu  and is at it's best through the colder winter months which adds to the intensity of the place. Powerful waves, dangerous shore break and popular with local surfers makes this place one to respect. Better for confident surfers, not recommended for learners. Expect fast down the line surfing and close out sets on the head. It's the place you remember when you come and surf Kaikoura.
Update: Earthquakes 14/11/2017. Kahutara is still there, coastline didn't move around too much here. Been a river mouth the K changes a bit anyway.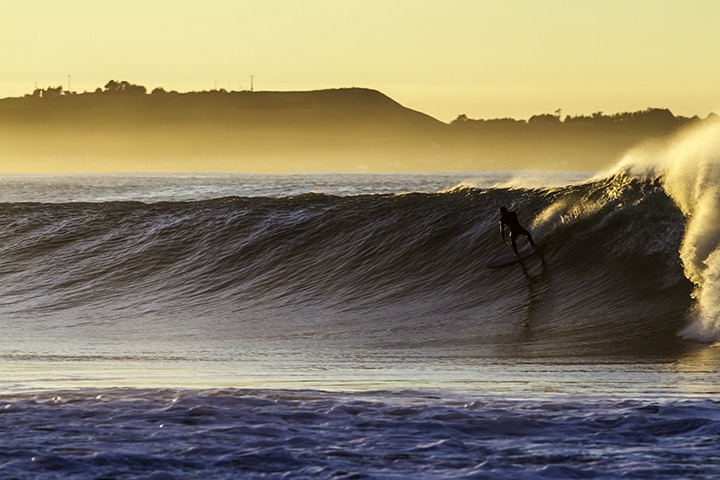 Meatworks
After leaving the Kaikoura township head north for about 15km until you reach the coast line again. Ahead you will see Maungamanu, but before that turn off to your right (Kiwa Rd) cross a train line, follow the  road until you see a small car park and toilet.
The most consistent beach for surf in Kaikoura, it picks up most swells from NE through to SW, but can be a hard paddle out on the bigger days. Meatworks breaks off rock shelf's which can provide nice A frame peaks, lefts and rights, on its day a high-quality wave. Meatworks can get crowded with tourists and locals, especially through the summer months with people taking advantage of the freedom camping along this stretch of coastline, people come from all over to surf Kaikoura, but we have a lot of campervans just pulling up for the night as well. Note if you camp here, respect it, take away your rubbish and use the toilet block provided, not the grass, that's where my kids want to play. Great place for good intermediate to expert surfers. Use the provided toilet and make sure others do! please.
Update: Earthquakes 14/11/2017. Seems to be breaking through the tides better, but is harder getting in and out. The rock negation takes a bit longer and watch your fins a bit more.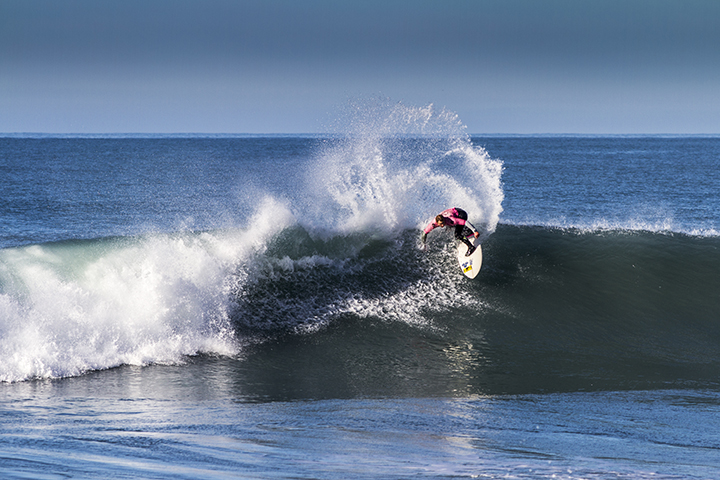 Graveyards
One of the easier waves to surf in Kaikoura. After leaving the Kaikoura township head north for about 15km until you reach the coastline again. Ahead you will see Maungamanu but before that turn off to your right (Kiwa Rd) cross a train line and stop. Named after the cemetery on the Kiwa Rd corner here, this wave is actually a great learner wave on the low to mid tide. A softer wave than Meatworks down the rd with more room to spread out and an easier exit and entry than most other breaks in the area. The key is low tide, above mid tide and it starts missing the outer rock shelf and hits the rock beach instead. Good for learners to advanced surfers.
Update: Earthquakes 14/11/2017. Breaks further out, still a fun wave. good for learners and intermediates.
Gooches Beach
Update: Earthquakes 14/11/2017. The old new beach in town. Since the earthquake Gooches has been breaking on any east-north swell, low to mid tide. Right in town beside the Lions swimming pool on the Esplanade. Sandy bottom, protected from most weather, Gooches is a great kid friendly, learner wave.
Okiwi Bay
If you want to surf Kaikoura but can't handle the rocks another 10 minutes past Mangamaunu is a little bay called Okiwi, it's a fun little beachie. The locals call it sandy bay, not all sand but on the low tide it is breaking on a sand bar 100 meters out. Best to park in the north end of the bay where there is a large picnic area off the highway. The cool thing about Okiwi is its off shore in a North East wind, nothing else in Kaikoura is, so in the summer months when the on shore is howling check this place out. Best on the low tide.
 Tides
Most surf beaches in Kaikoura are better on the low to mid, but things can work if other factors are in play so if in doubt check it out or come and see the team at the shop. Rips in the Kaikoura surf beaches are there in the wrong conditions, so be aware and take care.
Surf Kaikoura General info
Kaikoura's coastline is made of rock, don't expect golden sandy beaches if you want to surf Kaikoura, it can be hard getting in and out through the rocks, the rocks aren't sharp, just awkward. Taking your time and keeping your wits about you is a good place to start.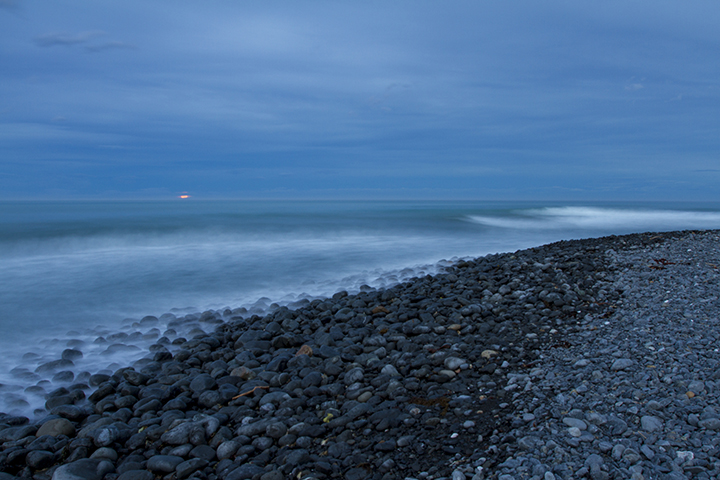 Locals
Respect them, they're the cool people who live here. They just might show you some back.
Surfing Kaikoura Hire
Surf Hire available year round at Coastal Sports.
Surfboard hire rate $50 per day
Wetsuit hire rate $20 per day (mostly 4/3mm wetsuits)
Surfboard and Wetsuit hire rate $60 per day
Huge range of new and 2nd hand boards available to buy in store.
Coming to surf Kaikoura we have the best range and fitting service of wetsuits in the south Island. Brands include Rip Curl, O'neill, Peak, Quiksilver, Roxy, Hurley, Patagonia and more, come in and see us at Coastal Sports, 24 Westend, Kaikoura.
Surf Kaikoura report and Tides